Agumon has lots of lines of epic evolutions. 
MOVES: FlareBreath, PepperBreath, ClawAttack.
VERSIONS: Agumon[Lvl:16], Agumon(06)[Lvl:16], Black Agumon[Lvl:18], SantaAgumon[Lvl:16], Yuki Agumon(06)[Lvl:16].
DESCRIPTION: A yellow dinosaur.
EVOLVED FROM: Koromon[Lv8].
EVOLVE TO: Greymon[Lvl:32], Meramon[Lvl:40].
Agumon merc
Edit
Agumon merc has no real changes to it except it has Red bands on its hands.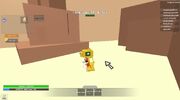 Toyagumon 
Edit
A toy version of agumon.
MOVES- Bubbleblow, Toy flame, Block punch ( melee move) And Fancy star ( melee move)
EVOLUTION- NONE
Description- A dinosaur.